The engraving manuscript of Gabriel Fauré's song 'L'hiver a cessé', which dates from February 1894, is one of the more fascinating musical autographs of its era. Its first pages are clean and beautifully set out, meticulously specifying details of voicing, dynamics, and articulation. But after a couple of pages the calligraphy becomes hastier, thicker; errors creep in, bars frustratedly scored-out and recopied. And then, on the approach to the final crescendo, there is a visible change of mental gear: the composing mind asserts itself, overriding the mechanical copying process. Fauré begins to rework the passage on the run, taking the music on an entirely different harmonic loop. After four bars he checks himself – he was right the first time – scribbles out the revision and continues towards the transition to the reflective postlude. There, too, he intervenes, extending the piano figurations an extra half-bar and correspondingly pushing back the change of metre: those amendments did make it into the published score. But in that second switch from copyist to composer, Fauré forgot to reinscribe a vital crescendo to forte – dynamic markings present in an earlier manuscript, which etch the culminating climax of not just that song but the whole cycle. Only in 2015 did those indications finally make it into print, when Roy Howat and I incorporated them into our critical edition of the cycle (for Edition Peters): you can hear tenor Tony Boutté perform the song with me here.
Notwithstanding those revealing hesitations, improvements and disastrous omissions, what I particularly love about this manuscript (now in the Bibliothèque nationale de France) is the verso following the final music page. It is blank but for a long dribble of candlewax, bearing witness to a composer working at night, and past deadline: the cycle's preceding eight songs had been engraved months earlier. With its revisions on one side and wax splodges on the other, that page illuminates both the immediacy of the creative imagination, and the everyday demands of a busy musician's life. That duality lies at the core of my book, French Art Song: History of a New Music, 1870–1914: perhaps more than any other musical genre, song seems to encapsulate and illuminate that pull between the inner and outer creative lives. Through the art song, or mélodie, of the Belle Époque, my book explores the spaces between the composer's desk, the rehearsal room, and the publisher's office; between the salon, the café, and the concert platform; between the stained and faulty score, and the soaring artistic idea.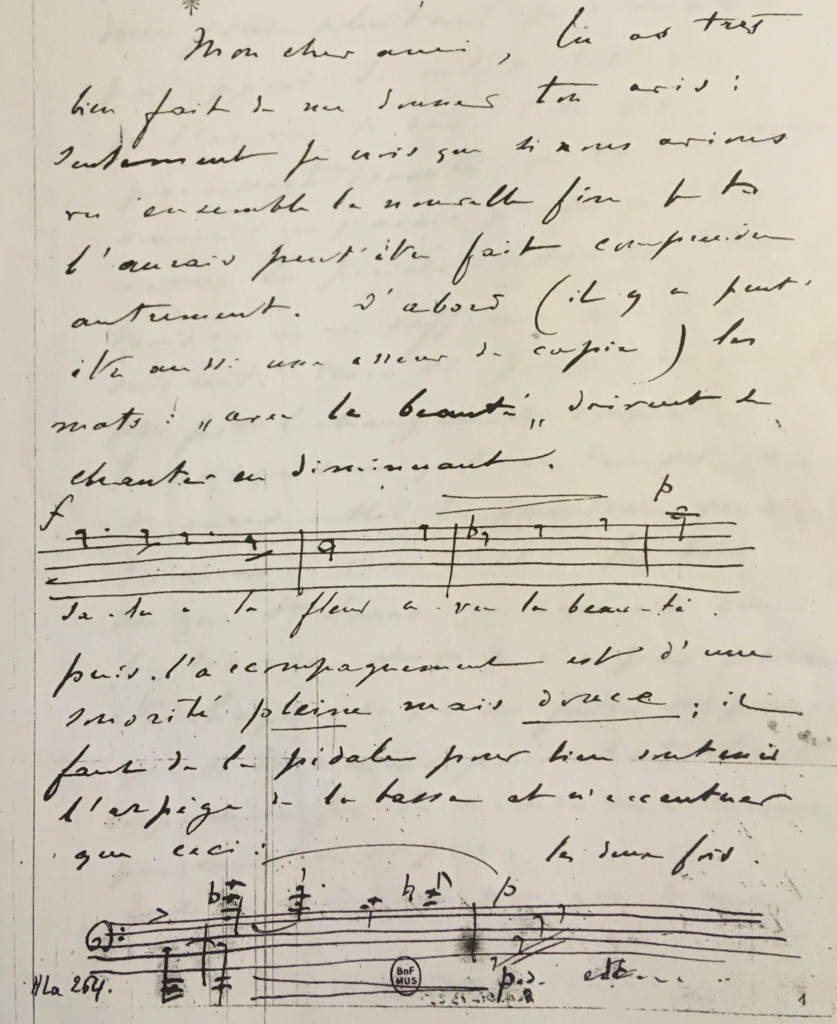 It was perhaps from this intriguing holograph that the tenor Maurice Bagès first read 'L'hiver a cessé'. A trusted collaborator and close friend of Fauré, Duparc, Chausson and Chabrier, Bagès would premiere La bonne chanson in April 1894, with Fauré at the piano. Bagès's career, too, lays bare the ambiguities and tensions between public and private musical worlds: he performed not just mélodie but also Wagnerian opera to great acclaim in the salons of Paris, weaving – not always seamlessly – the grandest artistic ambition with the conversational intimacy of song. His performing life, which underpins my book's central chapters, demonstrates that the bedrock of this 'new music' – for mélodie was one of the boldest and most experimental artforms of its age – lay in the company, the inspiration, and the clear-eyed challenge of friends.
Maurice Bagès died tragically young, and left no recordings. I invite you to listen instead to the voice of the redoubtable Jane Bathori, whose image I chose for the book's cover: Bathori, who could open a concert by accompanying herself in a complex song cycle, then reappear after the interval to join Eugène Ysaÿe in a Beethoven violin sonata, or Alfred Cortot in piano duets; Bathori, who in 1905 alone performed the songs of more than forty composers, almost all of them living; Bathori, who, through her artistry and advocacy, likely did more than any other single performer to establish the mélodie on the recital platform, and at the heart of the French musical imagination.
Bathori gave the first Belgian performance of Debussy's Trois chansons de Bilitis in 1903; twenty-six years later, she recorded the triptych, again accompanying herself. The critic Georges Jean-Aubry wrote in 1916 that Bathori's championship of new mélodie 'demands more than mere talent, and more than mere intelligence. It also requires courage.' In French Art Song I wanted to celebrate that courage, the musicianship and transformative generosity of performers such as Bathori and Bagès, and their unstinting dedication to this extraordinary 'new music'.
---
Images (all freely reproducible):
Gabriel Fauré, 'L'hiver a cessé' (La bonne chanson), F-Pn Ms. 17745: autograph engraving manuscript, showing abandoned revisions to bars 43–46
Gabriel Fauré, letter to Maurice Bagès regarding La rose (op. 51, no. 4), a song dedicated to and written for Bagès. F-Pn, NLA-264 (autumn 1890).
Poster advertising a salon performance of extracts from Tristan und Isolde (sung in French), with Maurice Bagès as Tristan, 1889. Petrocoria-num: Bibliothèque numérique patrimoniale de la ville de Périgueux, https://petrocoria-num.perigueux.fr/items/show/23703
This guest post was written by EMILY KILPATRICK, Lecturer in Academic Studies at the Royal Academy of Music, London.