So, who was Anne de Graville? That's a question that I have been asked a lot when explaining that I've been writing a book about her. There are two possible answers: the easy one, for noisy dinner parties and for those who might glaze over at the mention of the sixteenth century, is that she was a French noble woman who was also a poet and a book collector who ran off with her cousin*; the slightly more complicated one is that she was a writer and bibliophile well-connected to the French court who not only built up an important collection of books but who also challenged traditional late medieval views of women through her writings. These works she presented to the two most powerful women at the French court: the Beau roman (a reworking of the Livre de Thezeo, itself a mise-en-prose of Boccaccio's fourteenth-century Teseida) to the queen, Claude of France (d. 1524); and the Rondeaux (a reworking of Alain Chartier's 1424 Belle dame sans mercy) to the king's mother, Louise of Savoy (d. 1531). *For the curious, she did also elope with her cousin, Pierre de Balsac, leading her father to disinherit her, a decision which she challenged after his death, leading to her acquisition of many of her parents' books as well as their property.
Reconstructing Anne de Graville's library on the one hand, and analysing her literary output on the other, seemed at first to be two separate tasks. However, it became increasingly evident that the books Anne acquired – through inheritance, purchase or as gifts – often related closely to those that she wrote in their style and subject matter. Not only did she own a copy of the Belle dame sans mercy and the Livre de Thezeo, but Anne also showed a keen interest in owning works in different redactions, collections that celebrated poetic prowess, and those with links to the querelle des femmes, the debate about the nature and role of women in society. I found this dynamic between what Anne read and what she wrote became an important part of the research process and the shaping of the book. It helped me to understand what was informing Anne's choices, for instance in the adaptation and truncation of her sources, in her decision to use a particular poetic form, and in the depiction of her heroines as wise, rational and free to make their own decisions. Investigating Anne's library and writings together also led me to compare her reading and writing interests with those of her (near) contemporaries, Marie de Clèves, Anne of France, Catherine d'Amboise and Margaret of Navarre. This is where the 'literary networks' aspect of the book emerged, since it became evident that although relatively few women in the fifteenth and sixteenth centuries were able to build up libraries or to put pen to paper, those that did were often driven by the need to create a supportive community that celebrated women's skills and abilities in a patriarchal society that often disparaged them.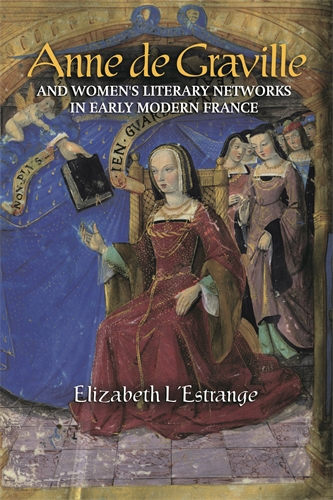 One of the most exciting discoveries that happened while writing this book was identifying the patron of Anne's Rondeaux. Because all but one of the surviving copies of the Beau roman are dedicated to Queen Claude, scholars assumed that the Rondeaux was also written for her. However, the only manuscript copy of the Rondeaux is dedicated 'To My Lady'. I was intrigued with the idea that Anne would refer to the queen as 'ma dame' in one work but not in another…perhaps was it written for Claude before she became queen, or was it intended for another woman at the court? I began wondering which woman in Anne's circle might have been interested in a rewriting of the Belle dame – one in which the lover is made to look ridiculous and the lady's on-going refusal of his advances is recast as coherent rather than uncourtly. A series of late-night internet searches threw up a miniature, inserted in another manuscript, that showed a woman who could only be Louise of Savoy (familiar widow's attire, coat of arms, etc.) being presented with a book by a kneeling woman. If there was any doubt as to the origin of the miniature, the verso was inscribed with the words 'La belle dame sans mercy / translatée en rondeaulx'. Bingo, I cried! My elation was (only slightly) short-lived when I realised that the manuscript in question had been lost 'in transport' from a convent in Nantes, probably sometime in the 1990s. I am keeping my eyes peeled and fingers crossed for any sign that this book has resurfaced…
In so far as she presented a pro-feminine point of view in her works, Anne de Graville had a precedent in Christine de Pizan, also active at the French court about a century earlier and whose Mutacion de Fortune Anne knew particularly well, as she owned and annotated two copies. Although Christine de Pizan might not be quite a household name, she is certainly well known amongst literary and gender historians; she was one of the guests invited to Judy Chicago's 1979 Dinner Party. I am hoping that, while Anne de Graville will probably be playing catch up to Christine for a while yet, this new study of her library, her works, and her literary connections will mean that Anne, too, becomes a familiar figure to those interested in libraries, book history, illumination, literary trends and, in particular, in the querelle des femmes in which Christine herself played such a formative role. I'd certainly put Anne on my guest list to a dinner party…
---
This blog post was written by Elizabeth L'Estrange, an Associate Professor in the Department of Art History, Curating and Visual Studies at the University of Birmingham.