Margery Kempe's Book is considered the earliest account of an autobiography written in English. Today on the blog we explore The Book of Margery Kempe set in the context of medieval medical discourse, the nature and significance of intense female spirituality in one of England's greatest medieval cities, the Book studied in both literary and historical context and more!
Enjoy a collection of some of our publications focused on Margery Kempe and join us in celebrating the one year publication anniversary of Margery Kempe's Spiritual Medicine!
Don't forget about our special Margery Kempe discount: Get 40% off any of these titles using code BB899. Valid until 28th of March.
Suffering, Transformation and the Life-Course
Margery Kempe's various illnesses, mental, spiritual and physical, are a recurring theme in her Book. This volume, the first full-length interdisciplinary study from a medical humanities perspective, offers a medicalized reading of Kempe's spirituality in the context of the ubiquitous medieval notion of Christ the Physician, and thus a new way of interpreting the Book itself: as a narrative of Kempe's own engagement with the medical paradigms of which she has previously been a passive subject. Focusing on the interactions of medicine, mysticism and reproduction as a feminist project, the author explores the ontology of female flesh; the productive use of pain, suffering and sickness; and the ethics of a maternal theology.
The religious attachments and charitable activity of women in and around late medieval Norwich are used here as a case study to consider women and religion in the period more generally. Drawing on uniquely rich and varied sources, the book demonstrates, far more fully and effectively than studies for other cities have been able to do, how links with continental Europe enriched female life. The wealth of fifteenth-century literature, much of local provenance, which survives highlights both this and other religious preoccupations of Norwich women. Among them are, of course, Julian of Norwich and Margery Kempe, who are here reinterpreted within the wider context of the religious life of the medieval city, and of women's contributions to it.

"An interesting and thought-provoking book which throws new light on our understanding of the feminine aspects of religious life in the long fifteenth century." THE RICARDIAN
Margery Kempe's Book provides rare access to the "marginal voice" of a lay medieval woman, and is now the focus of much critical study. This Companion seeks to complement the existing almost exclusively literary scholarship with work that also draws significantly on historical analysis, and is concerned to contextualise Kempe's Book in a number of different ways, using her work as a way in to the culture and society of medieval northern Europe. Topics include images and pilgrimage; women, work and trade in medieval Norfolk; political culture and heresy; the prophetic tradition; female mystics and the body; women's roles and lifecycle; religious drama and reenactment; autobiography and gender.
A fully-annotated edition, accessible to modern readers, of the unique account of the extraordinary life, travels and revelations of Margery Kempe – one of the most compelling and significant English texts of the middle ages. It is accompanied by on-page annotation of and commentary on the Book, bringing together scholarship on Kempe and setting her life in the social, political and spiritual context of her time.

"[Kempe] bursts from the pages of this careful and sober critical edition like Molly Bloom. Windeatt's introduction and detailed notes help to place her in a cultural context. […]In terms of comparison and allusion to Middle English Texts and provision of a helpful glossary, this edition is exemplary." ENGLISH HISTORICAL REVIEW
Abridged Translation, Introduction, Notes
Margery Kempe, wife and mother, provides an autobiographical account of her own singular brand of affective piety – excessive weeping, lack of bodily control, compulsive travelling, visionary meditations – and the growth of what she regarded as an individual and privileged mystical relationship with Christ. This excerpted, thematically organised translation focuses on passages which will contextualise for the reader its author's reliance upon the experiences of her own maternal and sexualised body in an attempt to gain spiritual and literary authority. With Introduction and Interpretive Essay.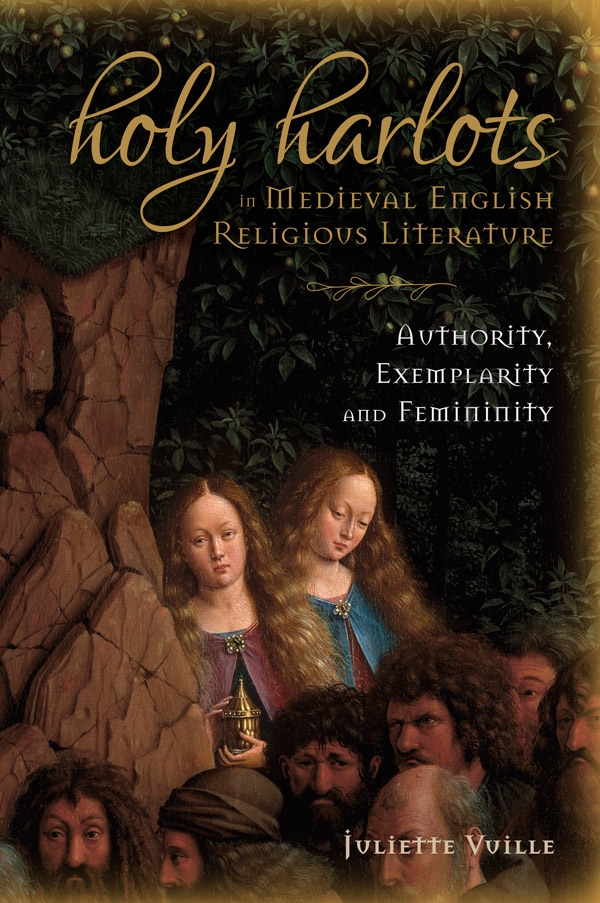 Authority, Exemplarity and Femininity
Available to Pre-Order!
During the Middle Ages, the lives of saints such as Mary Magdalen and Mary of Egypt – "holy harlots", women who repented of an early life of licentiousness to become blessed – were hugely popular, for both clerical and lay persons, men and women alike. However, this fascinating model of sanctity was rejected in the sixteenth century, and thus has been largely overlooked. This book, the first full-length study on the topic, aims to redress the situation, demonstrating that these apparent outliers transformed mainstream concepts of piety and womanhood. It uses texts from the Old English Martyrology through to the South English Legendary and works by John Mirk and Osbern Bokenham to demonstrate the centrality of these saints, and their influence on the writings of such woman as Christina of Markyate and Margery Kempe.
Coming later this year:
A consideration of the metaphor of water in religious literature, especially in relation to women.

Women are frequently depicted as unpredictable, difficult to categorise and prone to transformation in medieval religious writings. Water is equally elusive: rivers, wells and seas slip and slide out of the readers' grasp as they alter in metaphorical meaning.