Recycling. Did anyone in late medieval England know the word? No. But in this period, in most people's everyday lives, there was widespread understanding of the spirit of recycling and its associated practices. People knew what it took to 'sustene' (sustain) things, and they cultivated the material world around them with care – even as they knew, keenly, that earthly things might not last forever.
Re-use of all kinds was normal in medieval life: animal fats were collected to make candles, stained glass and masonry were repurposed in churches, and rags and bones were collected to make cloth, and glue or bonemeal. Like those wider cultural practices that evince a waste-not want-not approach to everyday life, the fabric of late medieval books also demonstrates careful stewardship of resources. My book focusses particularly on how late medieval books were repaired, recycled, and shared.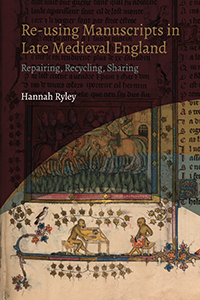 In late medieval England, books were put to a remarkable array of uses and re-uses. Older books were valued alongside newer books. Some books – or bits of them – were repaired by being patched and stitched up, some were recycled to make and protect other books, and any of these books could be shared between people. My research explores in depth and detail what re-using manuscripts looked like in this period.
Of course, anyone who consults manuscripts (or digital surrogates of them) will have seen many different kinds of re-use in the course of their own work, such as recycled leaves taken from one book to furnish another with flyleaves, or verses jotted into the margins of books. However, my book goes beyond just noting the existence of re-use by paying close attention to the practices and processes that gave rise to these features in books.
Difficulties arise quickly when investigating how medieval manuscripts were re-used. Some kinds of book recycling are difficult to locate in the archives. For example, palimpsests are often impossible to see by eye, and there is no comprehensive handlist of surviving limp bindings. In addition, it is often hard to know what is definitively a late medieval practice, and what might constitute later re-use or conservation activity. This book overcomes these challenges by adopting deliberately mixed methods, including both extensive surveys and individual case studies.
In this book, I focus primarily on parchment manuscripts, tracking the developing 'lifecycle' of a manuscript from the animal husbandry that produced skins, through the craftsmanship of parchmeners and binders, into the hands of people scribbling into the margins of books, and on to the secondhand books that were sold, given as gifts, and shared in communities. The book begins with a focussed account of the production of parchment, arguing that this material was made to last and could be repaired. Then, chapter 2 demonstrates that the durability of parchment was a pre-requisite for the physical recycling of bits of books – whole leaves, or parts of them. And as I show in chapter 3, people then repurposed their books in an array of ways, by writing notes, recipes, doodles, and even practicing alphabets and signatures on their leaves. And finally, the last chapter explores contexts in which books moved secondhand between people, evidence of which is written into the books themselves. Books were re-sold, given, or bequeathed, and even leveraged as collateral for loans. They were often scrupulously protected too: kept in chests, chained to shelves, and in one case, an unmissably huge inscription in the front of the book pronounces an anathema against anyone who might dare to remove the book from the library!
So, while no one in late medieval England knew the word 'recycling', this book demonstrates that people in this period well understood the significance of sustaining and re-using manuscripts, and exactly how to do so.
---
This guest post was written by HANNAH RYLEY, Lecturer in Early Medieval English at Balliol College, Oxford; she also teaches for the Faculty of English at the University of Oxford.