This week sees a landmark birthday for Dr Richard Barber, co-founder in 1969 of the Boydell Press which in time merged with Derek Brewer's imprint to form Boydell & Brewer. All of which has long placed Richard at the vanguard of independent academic publishing.
We are incredibly proud of Richard, his work and his achievements, and proud to be a part of the work that Boydell & Brewer continues to do.
We don't have space to hear from the entire B&B team or all the many, many people with whom Richard has worked and co-operated over the years, so we include just a few thoughts from those at the company who remember working with Richard 'back in the day', when as MD his door was always open, his keyboard never silent and he might just have fixed something mechanical in his lunchbreak.
Please join us in wishing Richard a very happy birthday!
If you want to keep up to date with Richard's many new projects, and details of his vast body of work to date, please visit his website at https://rwbarber.co.uk
And if you need to plug some gaps in your Richard Barber collection keep scrolling, we've some 'magnificent' offers…
Caroline, Editorial Director
The problem is not so much knowing where to start with Richard's achievements and talents, but where to stop! He has written or edited over 15 books – not only those of well-received and important scholarship, but also a travel guide to Gascony and the Dordogne – and countless articles; founded and was for so many years the managing director of Boydell and Brewer, arguably the leading publisher for medieval studies, which has fostered the careers of so many scholars (and indeed my own); and both earned a doctorate for his published work, and been awarded an honorary doctorate from the University of York, not least in recognition of his role in developing York Medieval Press. (He does, I understand, occasionally eat and sleep.)
However, Richard is also the ultimate polymath/Renaissance man: he developed a highly efficient and user-friendly computer system/database which underpinned Boydell's operations for many years; and, had things been different, he could have risen to the top in dealing with office equipment. I treasure the memory of seeing him to spring to action whenever the temperamental photocopier in our previous premises at Stangrove Hall (Richard's beautiful home), broke down, with a glint in his eye and screwdriver in hand; he rarely had to admit defeat!
The appalling loss to the world of photocopier servicing though has been an immeasurable gain to the academic and publishing fields. Through his own work and the works he has published, he has had, and as editor at large continues to have, a major impact and influence on them.
Sean, Marketing
Richard constantly amazes me with his energy and the matchless range of his interests and expertise: polyglot, scholar, prize-winning author, businessman and publisher, computer coder, carpenter, renaissance man! I recall a very early conversation not long after I joined when he noticed I had a still from The Seventh Seal stuck above my PC screen, which I think quite surprised him. I babbled about it for a few moments and he told me how he had first seen the film around the time of its release, in Italy, in Italian. It impressed me no end and he has never stepped down from that particular pedestal! Back in those days in the original office I remember occasions when, for example, new shelves were needed to store file copies and come Monday morning there they were, newly and perfectly built and fitted by Richard over the weekend! Needed an update to the database system? Richard was on it. I had never known – and have still never known – anyone like him. Happy birthday, Richard!
Sue, US Managing Director
I started at Boydell & Brewer in November of 2003 as the US production coordinator. Shortly after starting, I was honored to meet Richard Barber, founder of the company. I came to B&B with years of experience producing catalogues, brochures, print ads, and other print collateral, but I had never worked in book publishing. Richard took the time to teach me the anatomy of a book—signatures, book blocks, spine dies, front matter, back matter, verso and recto pages, frontispiece, etc. He was patient and kind and very encouraging. I've grown with the company over the years and am now the managing director of the US office. I wouldn't be where I am today in my career without Richard Barber's belief in my abilities and his support.
Vanda, Stock Control
Many happy returns to an inspirational man who has grown B&B to the company it is today. Always at the forefront with new ideas and seemingly able to turn his hand to anything from general office maintenance (he built my desk!) to computer programming, he fully deserves to be celebrated.
In 1989, a tournament was held at Framlingham Castle to promote his book written with Juliet Barker, Tournaments: Jousts, Chivalry and Pageants in the Middle Ages – by far the best book launch I have ever been to! The world of publishing is a much better place for him; I have learned a lot and am forever grateful to have worked alongside him for many years.
Jane Best, Production Editor
Being in the US, I only worked with Richard when he came across the pond for a visit. He'd check in about whichever volume(s) I was working on for the Camden House History of German Literature (10 vols. 2001–07), providing encouragement and appreciation for the problem-solving that project required. The last volume to come out was massive – 1148 pages! – and we had worked on it piecemeal in hopes that it could publish before year-end. It was already late summer and we had yet to receive the lengthy introduction – gah! – which was supposed to begin on page number 1, of course. But in order to proceed with the indexing, we decided to treat that coming text as part of the prelims so we could work around it! To Richard's delight, Jim Walker and I pulled off that miracle.  Finally, the complete ten-volume set could be marketed and sold!  Another good memory is when Richard offered to expand my part-time editorial assistant job into a full-time position – yay!   I was always amazed by Richard's technical know-how – much of it self-taught. I recall him cheerfully telling of how he had learned to use InDesign by watching online videos. Little did I know that years later I'd be doing the exact same thing, scouring the internet – Help, Google,  I am lost! – for InDesign tips.  And when I'd be on the cusp of finally "getting" something – or adding to my skill set – in my mind I could hear Richard's oft-heard, encouraging refrain, "You're nearly there!"   And so I was!  Thanks, Richard, and very best wishes for a happy birthday!
Ali, Database manager and programmer
Happy Birthday Richard! It doesn't seem so long ago that I turned up for my interview, straight from the farm covered in mud. Thank you for your mentorship at B&B and for letting me loose on Dataflex and the website! Ali x
---
There are too many Richard Barber volumes to list so here's just a small selection, all available with our special 35% blog discount, just use code BB897.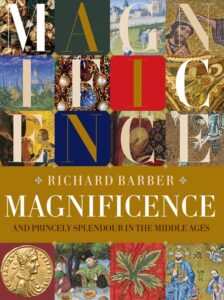 His latest and perhaps his greatest? It is a suitably beautiful book, and at 28 x 21cm it's a slightly larger format, and is packed with 104 colour illustrations. Click through and check the related content tab to view some lovely sample pages.
Offer price £19.50/$25.97
Co-authored with Juliet Barker, this was the first serious study of tournaments throughout Europe, revealing their importance – in the training of the medieval knight, the development of arms and armour, as an instrument of political patronage, and as a grand public spectacle.
Offer price £12.99/$19.46
Richard's translation of one of the finest, and most beautiful, examples of a medieval Bestiary (Bodleian Library, Oxford, MS Bodley 764), makes for a lovely little book and one of our annual bestsellers, a real evergreen classic.
Offer price £9.74/$12.97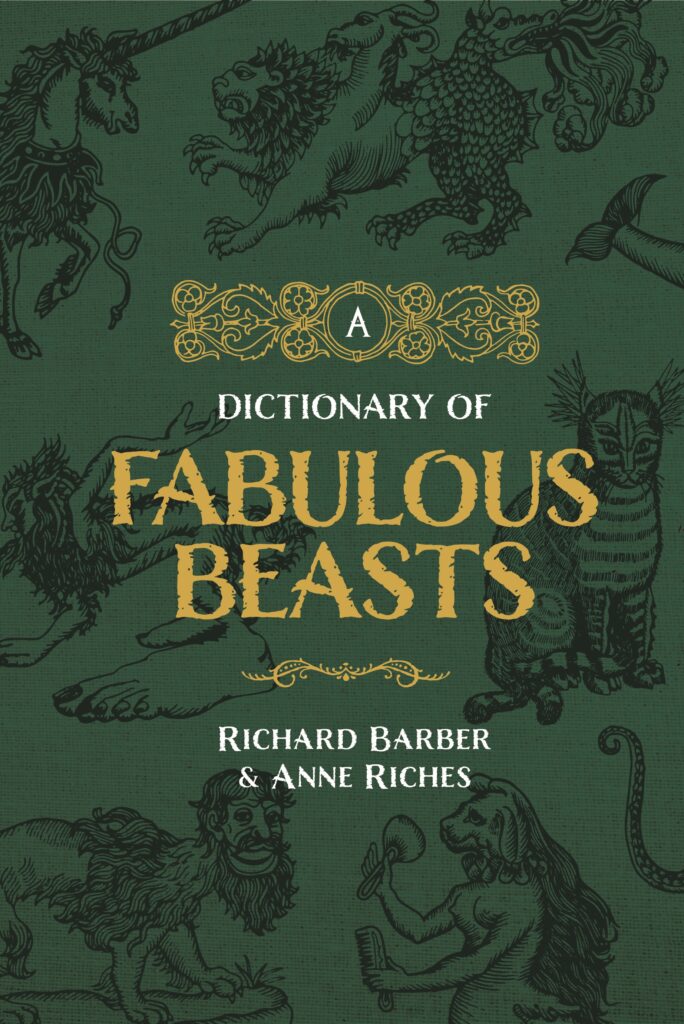 Co-authored with Anne Riches and recently relaunched with a striking new cover, this is a delightful collection of 600 mythical creatures – and maybe some real but (very) badly misremembered ones. Find Jormungandor the giant serpent, the Cameleopard, Devil's Dandy Dogs, Thunderbirds and Gremlins (first noted in the First World War but only named in 1922 by a RAF pilot just before his radio died….).
Offer price £9.74/$12.97
An edition of the letters that give vivid first-hand accounts of life in England, presented in their historical context. Essential reading on the English Middle Ages.
Offer price £11.04/$16.22
Another classic and the best account of the development of the Arthurian legend, from the ninth to the twentieth century.
Offer price £7.14/$9.72
---