If you return home after a long absence you might, not unreasonably, hope for a warm welcome, perhaps even some cake. Unfortunately for Saint Bartholomew, the reunification with his parents in this c. 1360 Catalonian altarpiece is more akin to Troy Baker from Community coming back with pizza to discover that the party has descended into pure anarchy in his absence. A black-skinned infant raises its arms in greeting from a red cradle, beneath which lie the bare-breasted bodies of four women. Another woman with exposed breasts kneels in prayerful gratitude, while Bartholomew's parents look on from their raised dais in shock.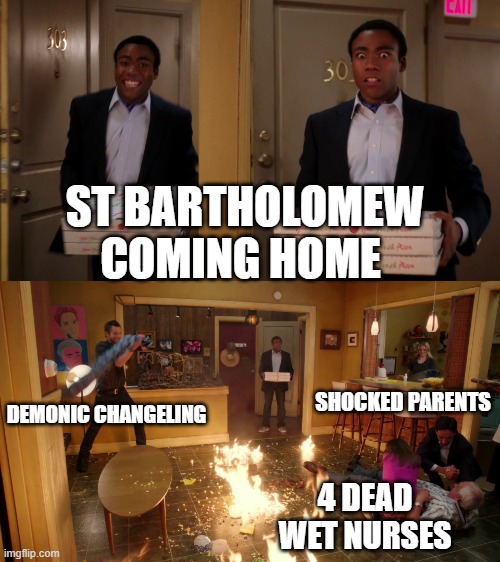 The inscription on the cradle provides some clarity for the viewer, explaining that: 'Aquest diable hen forma de infant jage hen lo breç xxiv ans hen forma de Sant Bertomeu e aucis iiii didas.' (This devil in the form of an infant lay in the crib for twenty-four years in the form of Saint Bartholomew and killed four wet nurses.) The passing of nearly a quarter of a century has allowed Bartholomew to grow into a tall, bearded young man. Meanwhile, the demonic changeling, snuggled up in its cradle, still looks for all the world like a baby. The changeling – a monstrous creature swapped for a human child by malevolent powers – is an enduring image in the popular imagination. While any number of characteristics have been attached to changelings over the centuries, they generally do not conform to the cultural norms of childhood development in the way that a healthy human child would. Thus, we can use images like this one as a window into medieval ideas about non-normatively developed, impaired, or chronically unhealthy children.
Dubbing a child 'a changeling' has traditionally been understood as a way to justify the (often violent) rejection of a disabled or ailing infant. Perhaps the most famous medieval example is the dangerous rite performed at the shrine of Saint Guinefort, the Holy Greyhound, where women from a small community in rural France attempted to reverse the supposed substitution of their infirmus (weak) and morbidus (sickly) children. Stephen of Bourbon (d. 1261), the Dominican inquisitor who records his discovery of these practices in the mid-thirteenth century, called these mothers infanticidal and destroyed the shrine. On the other hand, Bartholomew's parents are clearly depicted as having lavished attention on their supposed child. The changeling lies in pride of place in a beautifully carved crib, covered with intricately embroidered sheets, with a wetnurse on hand to attempt to quench its insatiable hunger at any moment. This level of care and attention has been sustained by the saint's parents for over twenty-four years and is only interrupted by the abrupt arrival of their true son.
The temptation is to see this as purely positive; evidence that medieval folk could envision a child with severe developmental delays being lovingly cared for in the heart of their family. But, this is a demonic changeling, an imposter concealing its true nature behind a façade of infancy, who has duped the saint's parents. Furthermore, feeding the changeling has directly caused the death of four women and the presence of a fifth wet-nurse shows that Bartholomew's noble parents had every intention of continuing this cycle of violent care. By confronting the viewer with the human cost of feeding the changeling, the altarpiece could question the level of attention given to non-normatively developing children. After all, if your life revolves around caring for your child, that leaves precious little time for your devotion to God which, in a late medieval Christian context, risks imperilling your soul.
Even this single panel is rich enough to provide material for multiple blog posts, I haven't even touched on the issue of race, how the patrons of the altarpiece related to the images, or how the wetnurse functioned within the Iberian context. While unique in many ways, this representation of the Life of Saint Bartholomew is part of a wider hagiographic tradition and broader medieval discourse on changelings. My new book, The Medieval Changeling: Health, Childcare, and the Family Unit, provides the most thorough examination of medieval changeling discourse to date. I consider how people from all walks of life were invested in both creating and experiencing images, texts and artefacts depicting changelings, and examine societal tensions regarding infants and children: their health, their care, and their position within the familial unit.
---
This guest post was written by Rose A. Sawyer who teaches medieval literature at Heinrich Heine University in Düsseldorf.
Header Image Credit:
The credit for the Bartholomew Image is: Master of Santa Coloma de Queralt, 'Return of St. Bartholomew to Banish the Changeling', from Retable of Saint Bartholomew, fourteenth century (c. 1360), Museu Diocesà de Tarragona, Tarragona, photograph by the Museu Diocesà de Tarragona.