In May 1990 I was looking for more freelance editorial work and had come across the name of a publisher who by good fortune was not only based down the road from where I lived in Finsbury Park but who also published academic books on Africa. James and Clare Currey asked me to come in for a 'chat' to their small basement flat in Islington. I took my 6-month-old daughter along and parked her on the sofa next to me. I left 2 hours later with a part-time job offer starting in 3 months and clutching the proofs of Manufacturing Africa to be getting on with in the meantime.
I remember the book in part as the leap of faith that the company made – taking me on with my obvious interest and limited knowledge of parts of the continent itself, but with minimal editorial experience, a rusty Anthropology masters and a new family. But I also remember it as the book that showed me the importance of well-researched, clearly written academic work that would contribute to a more nuanced understanding of the vast and varied African continent.
The editor Roger Riddell was based at ODI and drew together comparative studies of 7 Sub-Saharan countries (outside of South Africa) which at that time contributed 60 percent of total manufacturing in Africa. He highlighted the insufficient attention given to industrialisation, the inadequacy of available data and the importance of developing links between large scale and small scale /informal sector activities. I have no knowledge of economics but the subject of the book and the crucial but complex role that industrialisation and manufacturing can play in building an economy and livelihoods, resonated with my experience of living in Bamako, Mali in West Africa, where I worked briefly at an international school that seemed to purchase nothing locally, not even a pencil. The one exception was sand for building repairs at the school, which was bought from the wooden sand boats that operate from the banks of the River Niger.
In a recent lecture at Oxford's African Studies Centre the vice-president of Nigeria Yemi Osinbajo emphasised that encouraging manufacturing was one of the measures their government was taking to move the country forward despite its huge challenges. Refreshingly, he flagged up the projected demographics of a young population not to be seen as a 'problem', but as a future resource not only for Nigeria but for other countries, whose ageing populations would leave them without the numbers of working-age people needed to sustain their own economies.
Time for a new book on Manufacturing Africa maybe?
Meanwhile, the skilled and hard-working sand divers of Bamako bring sand up by the bucket to keep pace with rapid building and development in the capital, but aware that it also has environmental consequences for the river itself, and the fishing and farming communities on its banks.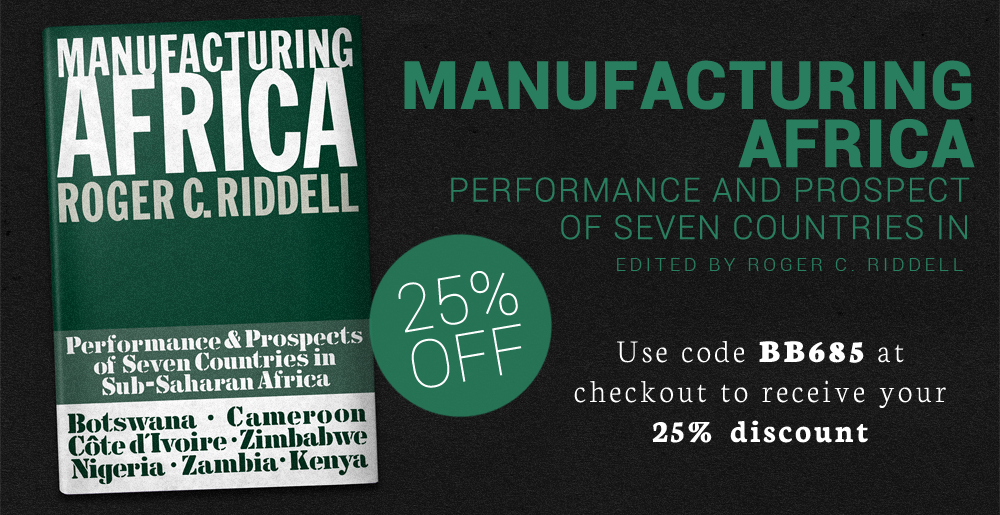 ---
Do you have your very own "first book at Boydell"? Do you remember the first Boydell & Brewer book that you read, bought, borrowed, referenced or even wrote? We'd love to hear your thoughts and your stories on the Boydell & Brewer books that have impacted you or stir up strong memories. You can email them to Sean at [email protected]