In April's already award-winning title Sol Plaatje's Mhudi: History, criticism, celebration, international scholars explore one of the most important postcolonial novels of African literature. This important exploration inspired us to look back at the exceptional recent scholarship on African literature available from James Currey and University of Rochester Press.  Covering a wide range of literatures from newspapers and novels to blogs and social media posts, these books shed new light on narratives from and about Africa. And no list on scholarship about African literature would be complete without Decolonising the Mind, which has itself become more than a classic.
Don't forget about our Proofed discount, enjoy 35% off any of these titles using code BB897.
History, criticism, celebration
Edited by Sabata-mpho Mokae and Brian Willan

Joint winner of Best Non-Fiction Biography, Humanities and Social Sciences Awards 2020

Sol Plaatje's Mhudi is the first full-length novel in English to have been written by a black South African and is widely regarded as one of Africa's most important literary works. Drawing upon both oral and literary traditions, Plaatje uses the form of the historical novel, and romance genre, to explore the 19th-century dispossession of his people, to provide a novel black perspective on their history. It is a book that speaks to present-day concerns, to do with land, language, history and decolonisation. Today the novel has iconic status, not only in South Africa, but worldwide – it has been translated into a number of languages – and its impact on other writers has been profound. The novelist Bessie Head described it as "more than a classic; there is just no other book on earth like it. All the stature and grandeur of the author are in it." A century after its writing in London in 1920, this book celebrates Mhudi's place in African literature, reviews its critical reception, and offers fresh perspectives.

Class and Sexual Politics in New Writing from Nigeria and Kenya
by Shola Adenekan

The digital space provides a new avenue to move literature beyond the restrictions of book publishing on the continent. Arguing that writers are putting their work on cyberspace because communities are emerging from this space, and because increasing numbers of Africans use the internet as part of their day-to-day engagement with their societies and the world, Shola Adenekan explores this transformative development in Nigeria and Kenya, both significant countries in African literature and two of the continent's largest digital technology hubs. This innovative book sheds new light on narratives about digital Africa. It is the first major work to provide a trajectory of class consciousness in Kenyan and Nigerian writing and, through this analysis, the book articulates the difference in attitudes towards queerness, sexuality, and hetero-normativity among successive generations of writers.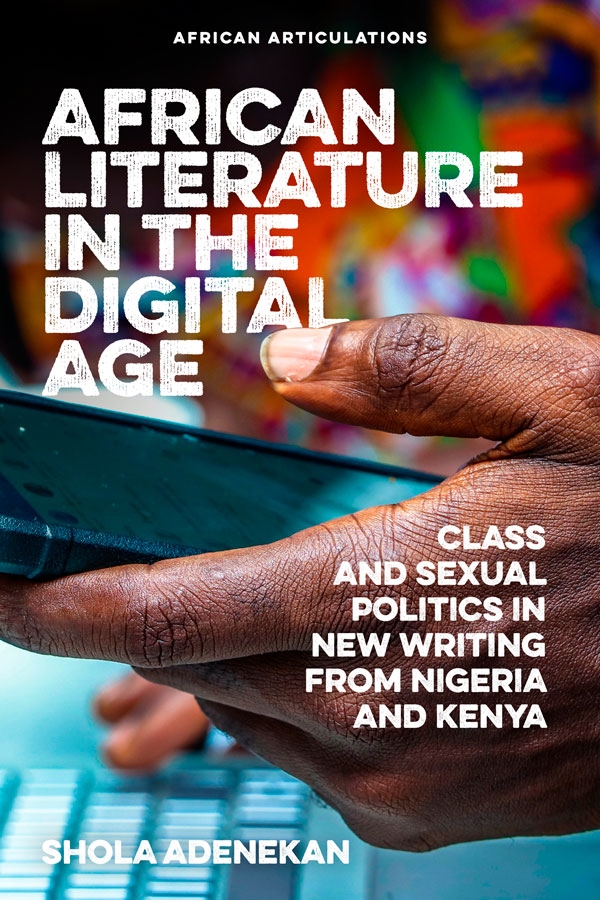 African Literature Today
Series edited by Ernest N. Emenyonu
Guest editors Cajetan Iheka and Stephanie Newell

This special issue examines the ways fiction and poetry engage with environmental consciousness, and how African literary criticism addresses the implications of global environmental transformations. Does environmentalist literature offer new possibilities for critical thinking about the future? What constitutes environmentalist fiction and poetry? What kind of texts, themes and topics does climate writing include? Does any text in which the environment features become available to environmentalist criticism? In their engagement with the diverse genres, themes and frameworks through which contemporary African writers address topics including urbanisation, cross-species communication, nature and climate change, contributors to this special issue help to define African environmental writing. From Tanure Ojaide's and Helon Habila's attention to environmental decimation in the Niger Delta through to Nnedi Okorafor's and Kofi Anyidoho's imaginative cross-species encounters, the special issue asks how literature mediates the specificities of climate change in an era of global capitalism and technological transformation, and what the limits of creative writing and literary criticism are as tools for discussing environmental issues.
Nigerian Travel Writing and Literary Culture in Yoruba and English
by Rebecca Jones

Throughout the twentieth century, Nigerians have been writing about their travels within Nigeria using a variety of media and forms, from serialised newspaper travelogues to personal diaries, autobiographies and online narratives. These works offer important insights into how Nigerians have represented Nigeria to itself and to the world. This is the first book to examine the production of Nigerian travel narratives about Nigeria in the century from colonisation to independence. Rebecca Jones argues that we can read these texts both as the products of a local Nigerian print culture, and through their articulations with global travel writing traditions. Focusing on travel writing published from 1914 to 2014 in the Yoruba-speaking region of southwestern Nigeria, home to a well-established and prolific writing and print culture in both Yoruba and English, this cultural history of Nigerian travel comprises close readings of these works, and argues that the production of travel writing in the region can be read not simply as a foreign import, but as a cluster of genres with a cohesive local history.
Politics, Race, and Space
Edited by Cajetan Iheka and Jack Taylor

This essay collection examines the representations of migration in African literature, film, and other visual media. Inspired by the proliferation of texts focused on this theme and the ongoing migration crises, essays in the volume probe the ways in which African cultural productions shape and are shaped by the migration debates, the contributions these productions make to an understanding of globalization, and the stylistic features of the works. The texts analyzed here include important recent writings and films that have yet to receive considerable scholarly attention, by artists such as Chimamanda Adichie, Teju Cole, Leila Aboulela, Noo Saro-Wiwa, and Marzek Allouache. Current scholarship on migration largely focuses on the journey from Third World spaces to the First World, thereby radically limiting our understanding of migratory flows. This project works against this lopsided analysis of migration and considers narratives of return as central to migratory flows. The book also invests in underanalyzed and underrepresented diasporas on the continent including the Lusophone and Indian diasporas.
Edited by Ernest N. Emenyonu

Easily the leading and most engaging voice of her era and generation, Chimamanda Ngozi Adichie has bridged gaps and introduced new motifs and narrative styles which have energized contemporary African fiction since her first novel, Purple Hibiscus (2003). With Half of a Yellow Sun (2007) and The Thing Around Your Neck – Short Stories (2009), she established herself as a preeminent story-teller. Americanah (2013), with ingenious craftsmanship addresses the sensitive themes of passionate love, independence, freedom and moral responsibility with extravagant and versatile narrative innovations. Her contributions to African, Diasporic and World literatures deserve serious analyses, commentaries and interpretations, and this Companion to her work critically examines her creative outputs from her art and ideology, from feminism to war, to matters of myth and perception, and the challenges of multicultural existence and complex human identities.
The Politics of Language in African Literature
by Ngugi wa Thiong'o

"…many of the ideas are familiar from Ngugi's earlier critical books, and earlier lectures, elsewhere. But the material here has a new context and the ideas a new focus. This leading African writer presents the arguments for using African language and forms after successfully using an African language himself." Anne Walmsley in THE GUARDIAN

"…after 25 years of independence, there is beginning to emerge a generation of writers for whom colonialism is a matter of history and not of direct personal experience. In retrospect that literature characterised by Ngugi as 'Afro-European' – the literature written by Africans in European languages – will come to be seen as part and parcel of the uneasy period between colonialism and full independence, a period equally reflected in the continent's political instability as it attempts to find its feet. Ngugi's importance – and that of this book – lies in the courage with which he has confronted this most urgent of issues." Adewale Maja-Pearce in THE NEW STATESMAN
---