Whites and Democracy in South Africa
ROGER SOUTHALL

Professor Southall, thank you for taking the time to answer some questions for the African Griot! Can you please begin by giving an overview of your new book Whites and Democracy in South Africa.
The book is centred round the question of how whites have responded politically to the arrival of democracy in South Africa. For many years before the democratic transition, there were predictions that South Africa was embarked upon a racial conflict of such enormity that it would end in a devastating civil war. In the event, South Africa defied these predictions. Anti-colonial struggles and Cold War confrontations involved war and conflict throughout the wider Southern African region, but ultimately the opposing elites in South Africa negotiated a relatively peaceful (albeit turbulent) settlement, for which we should continue to be grateful. It was a very close-run thing. Yet this posed the question of how whites in South Africa would react? Would they continue to fight? Would they flee? Or would they, somehow or other, after centuries of racial domination, adjust? Answering those questions is what this book is about.
My book takes an historical perspective, overviewing the changing patterns of racial domination before 1994, yet its major probing concerns how whites reacted to the change away from white minority rule. Much more than just enabling a universal franchise and changing the coloration of parliament and the government was involved. Top of the pile in the immediate years of democracy was how whites would wrestle with questions of historical guilt and accountability, so necessarily, how whites engaged with the Truth and Reconciliation Commission becomes a key question, which I address in chapters dealing with 'then' and 'now'. On the whole, I was pleasantly surprised by the responses given by focus group participants to the continuing questions raised by the TRC in the present era.
In the second part of the book, white attitudes to living in contemporary South Africa are discussed. In considerable part, this builds upon an earlier literature, notably Melissa Steyn's book 'Whiteness just isn't what it used to be': White Identity in a Changing South Africa (2001), although my book is more focussed on white adjustments to specifically political change than hers was. Unsurprisingly, there is a fair amount of 'white whingeing', but at the same time, there is a matching positivity, and I argue that while white political attitudes tend to be defensive, they are not so very different from those of black South Africans over a wide range of issues. Of course, as I argue in my chapter on 'Afrikaners after Apartheid', there has been a wide range of political responses by whites to the enormous changes that have taken place, but my overall conclusion is that given where South Africa has come from, the country has not done as many critics say in addressing the legacies of white racism.
How did you decide to research this subject? How did you ensure that you reached all levels of white society? How comfortable were your focus groups in sharing their thoughts?
Answering the first part of this question is easy. I grew up in London, and from the moment Ian Smith declared his UDI (Unilateral Declaration of Independence) in Rhodesia in November 1965, I have been fascinated by settler colonialism and its outcomes. I arrived in South Africa in 1989, and when eventually I hit the mandatory retirement age at the University of the Witwatersrand, my wife and I decided to retire in South Africa rather than returning to Britain. The immediate question I posed to myself was: did this mean that changing from being an expatriate to becoming a 'settler'? This soon led me to thinking about doing a book on whites, even though previously I had had no experience on dealing head-on with the issues of race in Africa. I admit, it has not been easy, and has involved a lot of self-reflection.
Of course, writing about 'whites' as a category is totally absurd, as they are not homogeneous, and come from different backgrounds, classes and what-have-you. So I relied on the experts to help me out on this one, and guided by the wonderful experts at Citizen Surveys, opted for focus groups stratified by income and region. Inevitably, there was some ethical discomfort involved in selecting focus groups based on racial criteria, and likewise deliberately selecting focus group leaders who were themselves white, but nonetheless we went ahead and bit the bullet, and I am confident it worked. Given that most whites are 'middle class' (and I won't get into what that means here), the overwhelming bulk of our respondents were 'middle class', but that covers a wide range. Nonetheless, I do fear that we did not capture responses from the very top and very bottom of white society. Hence my wonderfully unscientific reference to 'ordinary whites' at various points in the text.
'Ordinary' they may have been, but the participants in the focus groups did not hold back, and there was a wide range of opinions on view.
Tell us about whiteness studies. How well established has it become?
I am probably the wrong person to answer this. I do not consider myself to be a 'whiteness' scholar, and I am expecting to be taken up quite a lot by people who are. I have always been far more engaged with issues of class, yet in South Africa, it has always been impossible to get away from the obvious fact that class has been shaped by race. Scholars of widely differing ideological and theoretical backgrounds have written about white conquest, white domination, race and class in South Africa, and so on for ever and a day. In other words, the study of 'whiteness' in South Africa is scarcely new, even though it was not discussed from an explicitly 'whiteness' orientation until relatively recently. What we can say more certainly is that the notion of 'whiteness' is highly controversial. Very often commentators on the political right pillory it as an import from the United States unsuited to the study of South Africa. I think they are wrong. On the other hand, those working in both the liberal and Marxist traditions are often uneasy with 'whiteness'. To be honest, I share that unease. I find a lot of the whiteness literature fascinating and enlightening, but I do worry that when the whiteness approach is adopted uncritically, or adopted for political reasons, it can easy lead to unnuanced and generalised conclusions.
You write that while some white South Africans responded to the end of apartheid by emigrating, the majority stayed. What did you uncover about their feelings as that pivotal change approached?
I point out in the book that the white population in South Africa has not shrunk since the arrival of democracy. True, it has not grown so fast as the other population groups, for all sorts of reasons, one of which is that a fair number of whites have chosen to emigrate. But so have a worrying number of people from other population groups, and South Africa is losing too many of its young, ambitious, highly educated, highly skilled and middle-class citizens. Yet this is not just a white problem, and that needs to be re-stated and re-stated again. We are losing people who could make a major contribution to South African society but have decided that the country has no secure future to offer them. That is a real worry.
The reality is that most whites don't have the option or will to emigrate. Emigration comes with far more than financial costs. It involves a lot of emotion, as people leave 'home' and family behind. It is never an easy decision. Yet what our focus groups indicated was that most 'ordinary' whites have resolved that they are staying in South Africa, some because they are too old or don't have the financial wherewithal to do so, and some because they don't have what other countries want. Yet overall, however dissatisfied they are with the present government and (to put it bluntly) black rule, the overwhelming sentiment among focus group respondents was they wanted to stay in South Africa and they wanted to get on with life. For some, this meant trying to withdraw from the more ugly realities of South Africa, but for most, it means living with them, or directly engaging with them. Not a few declared outright their love for the country. Overall, I was relatively buoyed by the answers we received to this issue.
What proportion of white society can be said to have never really come to terms with democracy and how have they responded to it? Do you think these beliefs will persist and/or fade over time?
There is no way I can give you a statistical answer to this question, but I can state unequivocally that it's a relatively small minority. Of course, if you go to a pub crowded with white South Africans in Vancouver, Wimbledon or Perth, you will find many are irreconcilables, eager to justify their decision to emigrate by talking post-94 South Africa down. And as I say in the book, within South Africa, many outright racists and apartheid functionaries have disappeared into 'dark corners' (let's hope they stay there). But most whites are realists and relatively pragmatic. South Africa today is what it is, and they just have to make the best of it. Most don't really have any other option. Yet as your last question here suggests, there is a generational issue as well. Today there are a lot of 'born-frees' among whites who were born after 1994 or were very young when the transition happened, and they have grown up in a society where formal racial barriers have long been dismantled. This does not mean that they have all grown up as principled 'non-racialists'. Far from it. For a start, there is very wide resentment among whites and especially younger people among them about 'equity employment' (or affirmative action). Furthermore, there is a lot of work by scholars such as Jonathan Jansen discussing the informal barriers to inter-racial mixing in formally non-racial spaces such as schools and universities. The reality is that most white kids will have mostly white friends and mix in largely white society, and the reverse will hold for black kids. And yet, you just have to look around and see how things have changed for the better in this regard since 1994. It is no longer unusual at all to see racially mixed groups socialising, racially mixed couples, and so on. What the focus groups pulled out very clearly was that there was simply no general wish among whites to go back to apartheid.
Without giving away too much, what conclusions did you find in your research? Were you surprised by what you concluded?
If you had asked me to say whether, as a result of writing this book, am I a 'half full' or a 'half empty' scholar, I would have to opt for the former. Partly, perhaps, because if you live in South Africa it helps to be a little bit crazy and to hang on to your optimism. When I was young, taking part in anti-South African demonstrations in Britain, I took a pretty unnuanced view of white South Africans, so my young self would be very surprised to find that my older self has written this particular book in a way that is far from universally negative about 'whites'! I feel I have been immensely privileged to have worked in South African universities at a time of enormous change, for longer than the entire post-apartheid period (I arrived at Rhodes University in 1989), and I think that this has given me a perspective that is not necessarily shared by many young colleagues, a perspective that argues that, for all the racism and political reaction which continues to be encountered in South Africa, the country is in a far better place today than it was previously. I do not minimise the appalling extent of poverty, lack of opportunity, education, housing, income etc among the majority black population. Much more should have been done to address these issues, and I am very uncomfortably aware of the complacency about them among many of the white population. I am also very much aware that white racism remains rampant in certain quarters (especially of the internet), although as I say in the book, racism of any kind has long lost any claim to respectability. Yet if writing this book has suggested one thing to me, it is that while Whites must continue to grapple with the issues of historical responsibility, it is far too easy to simply blame whites for the present extent of inequality, unemployment and poverty. The reasons why there are so many distressing continuities with the past are far more complex than that; let's rather look at the nature of the state, the domination of the private sector by a relatively few large companies, and what elsewhere I have termed 'the slow death of the liberation movements'. To unravel these problems, we need to turn to political economy, rather than simply probing white attitudes, however important that may be.
To what extent is this book the 'flipside' to your previous one on The New Black Middle Class in South Africa?
That's an interesting question. I found this book a much harder one to write than the earlier one. I was born in 1947 and grew up in the early years of post-war Britain. My mum and dad had moved after the war to an outer suburb in East London. They had bought a modest semi-detached house in a solidly middle class area, but we had prefabs inhabited by East Enders who had been bombed out of their houses at the bottom of our garden, and other working class people living in municipal flats opposite us. Furthermore, I remember carefully avoiding walking along 'Beechwood Avenue', a road of council houses which the 1945-51 Labour Government must have built, passage along which for a middle class boy in school uniform could be very dangerous! So as I grew up, I imbibed that acute sense of class which so many of my generation of English people have, and learned to recognise class a mile off.
Let's hope I have long left any sense of class privilege behind. But what I am saying is that writing The New Black Middle Class was in a way very autobiographical. I recognised my own family's trajectory from lower to upper middle class status as my dad prospered over the years at work in the lives of many black South Africans after 1994. My family had experienced upward social mobility and it was easy for me to see how the social dynamics at work in 1950s Britain had found a new lease of life in post-1994 South Africa. Yet 'race' was nothing I encountered till I arrived in South Africa. There was not a single person of colour I can remember in either of the schools I attended, nor indeed, amongst my years as a social science undergraduate at Leeds University, not least because people of colour were even far more stuck at the bottom of British society in the 1960s than they are today. In other words, whereas I had 'lived' class, I had to 'learn' race, and I have to admit, I made my mistakes in doing so. However, as I have pointed out above, the overwhelming majority of white South Africans are middle-class, so at least there has been that resonance, enabling me to empathise (not 'sympathise') with them.
What do you think black South Africans will make of your book?
Well, black South Africans are no more politically and attitudinally homogenous than whites, so I expect the reaction to be mixed. But to be honest, I am expecting a much more mixed reaction to this book than my previous one, reviewers of which were almost uniformly kind. I am expecting to get hammered, on the one hand by 'whiteness' scholars who may well query my approach, and on the other, by black reviewers who may well sniff out what they regard as undue satisfaction and complacency. I will agree with them that South Africa is currently facing a major crisis. The ANC has run out steam, yet there is no coherent force to replace it, and the worry is that the gap will be filled by populists and others of a xenophobic, neo-fascist disposition. In this situation, complacency is a danger, but it is not just white South Africans who are complacent. In other words, we need vigorous action behind a programme of social justice and reform, and the trick of any progressive force must be to bring white citizens, as much as any others, behind it. We urgently need the return to the visionary project of non-racialism and democracy that fired the struggle against apartheid.
Of course, I am hoping that there will be some positive response to the book along with the brickbats. All I can say at this point is, while I am by no means fully satisfied with the book, I am confident that I have got more right than wrong. I will have to live with that, sustained by a belief that no-body writing about race in South Africa today is likely to escape unscathed.
A friend recently remarked to me that now I had written books on class and race, I better get on and write one on gender! I replied that I had learnt enough in writing this book to make me ignore his advice!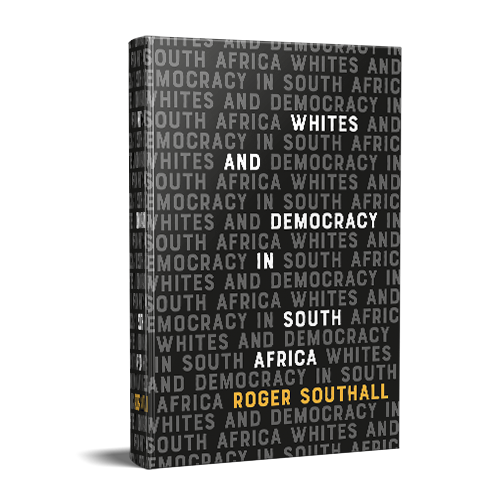 Whites and Democracy in South Africa
ROGER SOUTHALL

284pp
£65 / $99
February 2022
9781847012890
Hardback
James Currey
Special African Griot Price
£39 / $59.40
Use code: BB996
More from the Author
Use BB996 to enjoy 40% off these titles!
ROGER SOUTHALL is Emeritus Professor in Sociology, University of the Witwatersrand and Professorial Research Associate, Department of Politics and International Studies, SOAS. His books include Liberation Movements in Power: Party and State in Southern Africa (2013) and The New Black Middle Class in South Africa (2016).
African Sun Media: South Africa