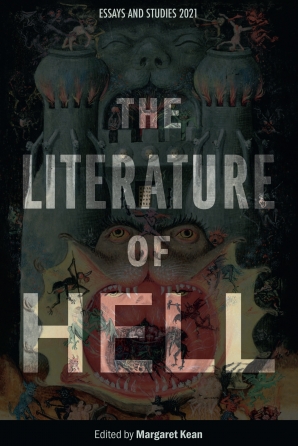 The Literature of Hell
Description
Contents
Author
Essays considering the representation and perception of hell in a variety of texts.
Narratives of a descent to the underworld, of the sights to be seen and the punishments meted out there, have kept a hold on the popular imagination for millennia. The legacy from doctrinal warnings and the deep-set literary markers that identify a place of suffering and alienation continue to stimulate creative exchange and critical thinking. Such work takes risks: it braves the dark and questions the past.
The contributions in this volume reflect on the exigency of hell in the stories that we tell. They consider the transfer and repurposing of motifs across genres and generational divides, and acknowledge the sustained immediacy of physical and psychological landscapes of hell. The essays span a wide chronological range and apply various contemporary critical approaches, including cognitive science, performance studies and narratology. This cross-period analysis is complemented by interviews with three creative practitioners: Jeya Ayadurai, director of "Hell's Museum" in Singapore, the actor Lisa Dwan, who is acclaimed for her dramatisation of Samuel Beckett's late works, and the writer David Almond. From ancient myth and early English sermons to mid-twentieth-century surrealism and current responses to terrorist activities and environmental damage, the literature of hell engages with issues of immediate relevance and asks its audiences to reflect on their cultural history, the meaning of social justice and the nature of embodied existence.
Introduction,
Margaret Kean

PART I: Cum Timor et Tremore: Landscapes for Hell

Folk Horror: Hell and the Land in Old English Homilies for Rogationtide,
Helen Appleton

Pandæmonium as Parallax: Metropolitan Underworlds and Anarchist Clubs in Nineteenth-Century London and its Literature,
Charlotte Jones

Hell's Museum, Singapore,
Interview: Jeya Ayadurai

PART II: Out into this World: Sensory Hells

The Taste of Food in Hell: Cognition and the Buried Myth of Tantalus in Early Modern English Texts,
Laura Seymour

Hell's Kitchen: Underworlds in Leonora Carrington's Down Below and The Hearing Trumpet,
Hannah Silverblank

Samuel Beckett's Not I,
Interview: Lisa Dwan

PART III: Mind the Gap: Telling the Tale

Terra tremens: Katabasis in Seamus Heaney's District and Circle (2006),
Rachel Falconer

Whirlpools, Black Holes and Vortical Hells in Literature,
Jonathan R. Olson

The Song of Orpheus,
Interview: David Almond
Hardcover
9781843846093
July 2021
Ebook (EPDF)
9781800101814
July 2021
Ebook (EPUB)
9781800101821
July 2021